Volunteer Spotlight - Appleton Farms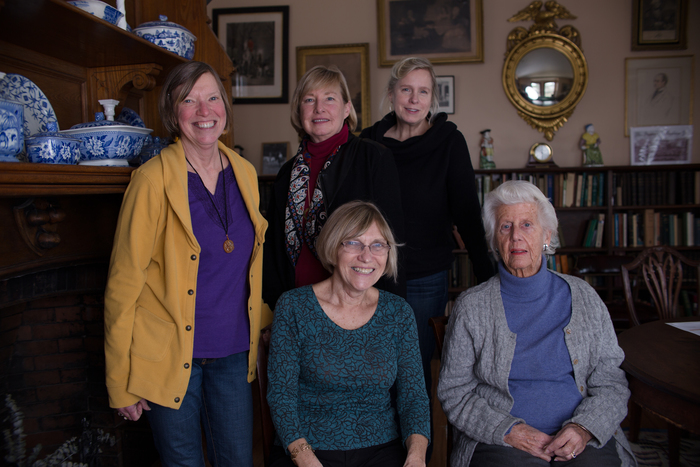 Farm Hands of History
by Jeff Harder
One Sunday inside the Old House at Appleton Farms, Sheila Cooke-Kayser had a chance encounter with a rare visitor: a woman who was once Joan Appleton's personal nurse. "Talking to someone who has a personal connection with a historic place was so interesting, and it made Joan come alive," she says.
Sheila is among 14 docents who volunteer at the Old House, acquainting visitors with the rich past of America's oldest continuously operating working farm. All the docents are history buffs; before retiring in 2011, Sheila, a Beverly resident, had spent more than 30 years working in historical interpretation for the National Park Service. To get acquainted with Appleton, she started by reading the standard-issue property history and chatting up veteran docents like Katrina Hart and Susan Kalloch.
Additionally, the docents have organized book clubs for the likes of Louise Tharp's The Appletons of Beacon Hill and taken field trips to the Isabella Stewart Gardner Museum. That homegrown expertise helps them illuminate history's marginalized voices; Sheila particularly enjoys telling visitors about Francis Appleton's two daughters.
The docents' enthusiasm is infectious, but it's also vital. "Having people who are excited to tell the stories is how you get the next generation of visitors excited," says Marc Mahan, The Trustees' Volunteer Resources Coordinator for the Northeast Region. "The docents at Appleton Farms exemplify why preserving something forever means preserving the past."
DOCENT LIST (in alphabetical order): Sam Bigelow, Sheila Cooke-Kayser, Janet Gillis, Lynn Grindall, Katrina Hart, Ginny Hughes, Susan Kalloch, Susan McDonald, David Putnam, Betty Redstone, Teresa Sadowski, Jay Stanbury, Joyce Thomson, Fraley Wright.