Volunteer service days are designed for groups to help support the work of The Trustees. The opportunities focus on outdoor, hands-on projects such as mulching or weeding at a public garden, invasive species removal, harvesting or planting at an agricultural farm, and more. The projects vary depending on the property and time of year, but volunteers can definitely expect to get their hands dirty! Volunteers work alongside and learn from Trustees staff who are subject matter experts in areas such as ecology, horticulture, sustainability, and more.
What is the process for getting involved?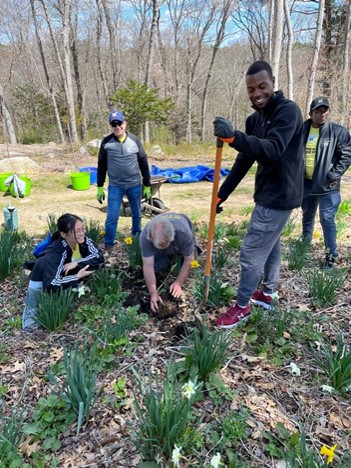 For more information, please complete the Corporate Volunteer Request form below and Volunteer Services will be in touch with you to discuss further.
What does a typical volunteer service day look like?
A typical corporate service day will be a group of 10-25 people, volunteering for 2-3 hours, from 9 am – 12 pm or 1 pm – 4 pm. We can be flexible to accommodate groups of other sizes, longer days, and different times, as needed. For groups of 100+ volunteers, select properties can host groups of this size, or we can schedule simultaneous service projects across multiple properties.
Corporate Service Fees
The Trustees welcomes a wide range of groups to work on various types of projects across Massachusetts. We are so appreciative of the time and talent of the groups that volunteer with The Trustees. To guarantee an excellent experience for all Corporate Volunteer groups, we require a fee to offset the cost of additional tools and materials, staff planning, and maintenance and support of the project. The fee structure based on group size is below.
| Number of people | Fee |
| --- | --- |
| 1 - 10 | $1,000 |
| 11 - 20 | $2,000 |
| 21 - 35 | $3,500 |
| 36 - 50 | $5,000 |
| 51 - 75 | $6,500 |
| 56 - 100 | $8,000 |
| 100+ | $10,000 |
Please email us at volunteer@thetrustees.org to discuss fees.