We are excited to partner with Community Groups, offering a variety of opportunities that foster community and inclusiveness.
Volunteer Service Days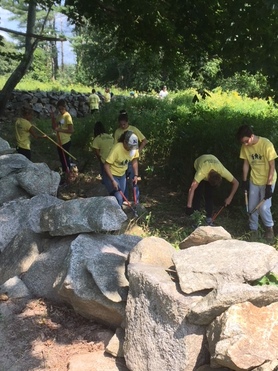 Designed for groups of 12-50 people helping at our farms, gardens and trails, these activities center around hands-on projects such as mulching, weeding, trail maintenance, crop harvesting and more.
Customized Service Days
Customized to align with a community group's broader initiatives and responsibility goals, these offer a hands-on experience as well as interactive learning sessions with a Trustees subject matter expert in areas such as ecology, horticulture, sustainability and more.
Skills Based Volunteerism
Geared around professional services, volunteers lend professional skills to help build and sustain our capacity, and support our mission, while providing professional development and leadership opportunities for the volunteers.