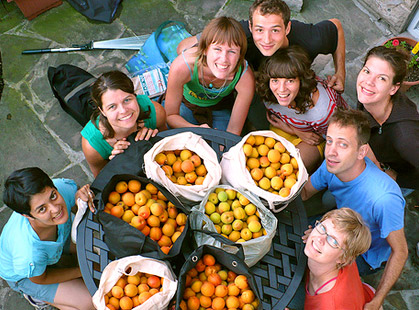 What do Corporate Groups do?
The work varies depending on the property, but volunteers can definitely expect to get their hands dirty! Many of our groups perform a variety of stewardship tasks, like trail maintenance, invasive species removal, or garden work. Other groups have engaged in agriculture type work, which includes weeding, mulching, more weeding, and harvesting (when available).

What properties are available for groups?
We are open to engaging groups on just about any of our properties. Historically, we have the best experiences on farms (like Appleton Farm in Ipswich or Chestnut Hill Farm in Southborough) or gardens (such as Stevens-Coolidge Place in Andover, Castle Hill in Ipswich, or our Community Gardens in Boston).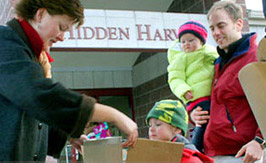 What is the process for getting involved?
For more information, contact, volunteer@thetrustees.org. From there, we'll discuss logistics about the day including where your group wants to work, what date would you like to work, what type of work might be available, how many people will be working, etc.

How many volunteers can you host? Is there a fee?
We can host a wide range of numbers. Groups of 15 and under can easily mesh into our existing projects.

Groups sized 16 or more require more planning, tools, and staff time to ensure the best volunteer experience possible. In order to make sure you get the most out of volunteering with us, we require a fee of $1,000 for groups sized 15-49 and $5,000 for groups sized over 50. This fee covers materials, supplies, and staff time coordinating the day. Organizations usually donate in-kind, such as wood chips for trails or flowers/shrubs for planting. We would not want this to be a barrier for you volunteering with us, so please email us with questions about alternative options.

In the past, we have taken group sizes of over 100 people, but those groups fit into very specific tasks on very specific properties. Please email us at volunteer@thetrustees.org to inquire about this option.

What lunch options do you have?
Most properties are in suburban areas or are close to different food/lunch options. A few properties (Crane Estate for example) have catering contracts and could potentially provide lunch with advance noticed. Most of our sites have plenty of seating for lunch areas.

What should I wear/bring?
Please dress for the weather! We try to run projects even in a little bit of rain, so please keep an eye on the forecast. We also ask that you wear clothes you don't mind getting dirty in and closed toe shoes (i.e. not sandals, flip flops, etc.). Your safety and enjoyment are our primary concerns, and no one would be happy and healthy with injured feet!

Please also bring sunscreen, bug repellent, and a water bottle. If you enjoy a particular set of work gloves, feel free to bring them as well. We should have everything else covered for the day.